Neuhausen/Spree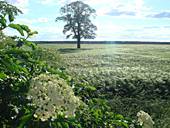 Neuhausen/ on the river Spree being located in the south of the State of Brandenburg, midst of the beautiful Lower Lusatia, is embedded in a unique natural scene of forest, meadows and farm land. Our region is belonging to the most densely wooded territories. Here mushroom pickers mostly discover what one is looking for, and they are travelling here even from the neighbouring federal States in order to fill the basket with chanterelle, cèpe, birch boletus, and with slippery jack or chestnut boletus.
While the river Spree flows through the community's territory it provides an unmistakable flair to each nature lover. Natural wetlands can offer optimal life conditions to many rare specimen of fauna and flora. Thus, when luck is on your's side, it will be possible to observe grey herons, black and white storks, ospreys and even grey sea eagles. Besides the domestic wild animals like roe deer, wild boars and small game, even royal stags appear increasingly again.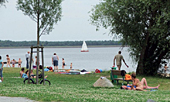 Die Naherholungsgebiete Bagenz und Klein Döbbern an den ansprechend und umfassend sanierten Stränden am Spremberger Stausee sind ein beliebtes Mekka für Gäste aus nah und fern. Ein breites Angebotsspektrum vom Freizeitpark mit Minigolfanlage, einem Hochseilgarten, schönen Spielplätzen, Tret- und Ruderbooten, einer Surfschule u.v.m. lässt kaum Wünsche offen.
Adjacent recreational areas of Bagenz and of Klein Döbbern at the shores duly and appealingly rehabilitated of Spremberg's dam lake, became a well-liked mecca for guests coming from near and far. There's a broad scope of services offered by the leisurepark with crazy golf, an aerial high ropes course, pretty playgrounds, rowboats and pedalos, a surfing school, and much more fun that doesn't leave nothing to be desired.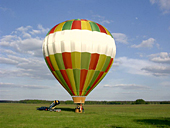 Varied sportive activities for the whole family may be offered by our stables and horse riding centres, 9-hole golf course at Drieschnitz, at the airfield of Neuhausen with its diverse opportunities like gliding, ballooning, skydiving or sightseeing flights, moreover a bowling alley and the clubhouse at Laubsdorf. 500 kilometres of cycle paths are made available to the bikers and skaters, for example the "Spree Trail" and the "Tour of Brandenburg" both within the Spree-Neisse District. However, even a stroll either along the river Spree or through wood and farmland give a good feeling at any season.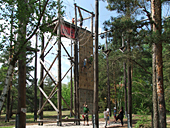 Farm shops at Laubsdorf, Bagenz and Gablenz offer traditional rarities and culinary specialities like the Sorbian Easter eggs, tasty morsels from the home slaughtering inclusive of ostrich meat, or home-made fruit spread. They also produce their own liqueurs on the basis of asparagus and cucumbers, as well as other high-quality spirits that sold like hot cakes at Laubsdorf.
Cookery at the inns and restaurants is well-known extending beyond the community's boundary. Besides the fantastic fish dishes and the plain fare, typical dishes of this region enjoy increasing popularity with the guests: "Hochzeitssuppe" (beef vegetable soup), jacket potatoes with quark and linseed oil, or knuckle of porc with sauerkraut.

Always an attraction for guests and visitors are the historical edifices in large numbers which could be saved from the dilapidation and, partly, have been elaborately renovated, too. Besides the awesome centuries-old churches at Gross Döbbern and at Klein Döbbern or at Komptendorf, two other small chapels are in possession of the community. Restored with loving care taken of details, these invite you in for different events like the mass of St Hubert or diverse concerts.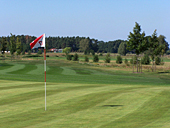 Castles and manor houses, the old manse at Gross Döbbern or the traditional "Umgebinde" house (a kind of half-timbered house put into effect with a framework construction, unique in Germany) are interesting historical contemporary witnesses with its own captivation.

Who needs however a bit more hurly-burly, he'll quickly reach the town of Cottbus in the vicinity. The good transport connection to the motorway permits further short trips, too. Hence you can arrive at Berlin within one hour, and in half an hour even in Poland.

We are looking forward to seeing you!
Attractive hotels, snugly boarding-houses and accommodation service as well as camping grounds, bungalows and log cabins invite you to tarry.

Gemeinde Neuhausen/Spree
Amtsweg 01
03058 Neuhausen/Spree
Tel.: 0049 35605 612-0
E-Mail: info@neuhausen-spree.de
Web: www.neuhausen-spree.de