The "Lusatia Lakes" are a holiday destination that is just brought to life. Where during a long time the lignite extraction has shaped the landscape, mankind get down to work on Europe's greatest lake district.
Due to the flooding of earlier open cast collieries comes into being a spectacular water world with 23 artificial lakes. Thus, the face of the region is changing with each new cubic metre of water. In only a few years later ten lakes get connection for navigable channels. Then holiday-makers cannot only bask in the sun on the shores, but even now setting the sails, surfing, paddling, diving or fishing. Who like it more speedy has the opportunity to discover the several lakes either by water-ski or jet-ski, wakeboarding or motor yacht.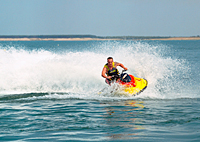 The Lusatia Lakes offer a lot of activities at the shore beside the pleasure to go for a swim or water sports. Cycle paths finished with asphalt surface are running through the Lusatia Lake region. The distances around the lakes are broad and mostly gentle, and in this respect they'll be suited everybody very well. New landmarks and striking viewpoints along the path offer to both cyclists and skaters terrific outlooks over the imposing nature having been subject to change. Besides circular walks around the different lakes, there are long distance cycle paths and others being linked to any subject area, like the route of the Lusatia Lakes or the route of the Lower Lusatia Mining, and all of them leading across a varied travel area.
Both the earlier and the open cast mining still in operation which didn't yet fall back before the water, offer as "lunar landscape"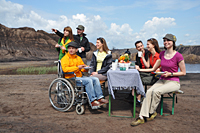 great allowances for adventure and discovery that left a lasting impression. Tours of experience by quad-bike or off-road vehicle lead directly through canyons, deserts and steppe-prairies. In addition, landscape art and impressive relics of the industrial heritage grant fascinating insight. Thus, former power and briquetting plants revive, and tourists coming to the Lusatia Lakes have to see it now! A genuine trademark of the Lusatia Lakes area are the "Swimming Houses" that ensure an unusual holiday mood.
Special offers like skiing throughout the whole summer, experience of culture happenings in the amphitheatre or in the midst of a scenic work of art, motor sport on the racetrack "Lausitzring", a lot of museums, and the traditional custom and practice of the Sorbs invite for welcome change.
More information available by:
Tourismusverband Lausitzer Seenland e.V.
Am Stadthafen 2
01968 Senftenberg
Tel.: 03573 725300-0
Fax: 03573 725300-9
E-Mail:
info@lausitzerseenland.de
Web:
www.lausitzerseenland.de