Burg in the Spreewald … in order to come round in a natural manner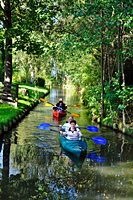 Change down and drift in the heart of the Spreewald
Far away and off the main lines with rushing and hectic pace, in the middle of the UNESCO biosphere reserve Spreewald, in the midst of a fertile landscape is flowing pure elixir of life, is pouring out hot thermal brine, and there is the river Spree with all its waters flowing through riparian forests and meadows widely branched out. The removed vastness of Germany's most important settlement with scattering buildings, bordered by rustic log cabins and fragrant haystacks, make feeling slowness like a kind of gracious living. Power and harmony while attending yoga and meditation, and to glide gently with the canoe of the senses – all is in a state of flux...
Burg in the Spreewald … move naturally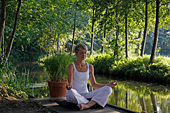 Along the "Cucumber" cycle path, modern walking paths and water touring
Take whatever action is needed, laid-back or arduous, to walk, to pedal or to develop water-based activities on the fairway. Either you discover the Spreewald along dozens of cycle paths and walking tracks, or you set new goals and to be able to breathe freely again. With renewed energy it's to go boating along the waterways, to drift simply in between times while kingfisher and dragonfly like true fellow travellers whir en passant. Carry away the élan and don't lose your rhythm. Spend just eventful days.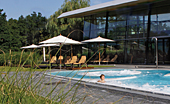 Burg in the Spreewald … switch yourself naturally off
Hovering on salt, linseed oil massages and hot steam within in a big gherkin cask
Stimulating warm brine bubbles through the thermal spring in the nature. Likewise stimulating is the first-class wellness offer à la Spreewald: A pack of Spreewald algae spoils your skin while you are lost in thought in front of the fireplace within the sauna, or taking a hot steam bath within the gherkin cask. And what's about the salt grotto? Practise sound meditation. Here it's again that feeling... the sense of well-being and deepest relaxation.
Burg in the Spreewald … naturally rich in tradition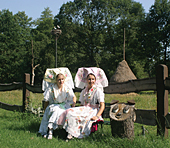 Exhibition of old world craftsmanship, traditional costume festivals, Spreewald art
Witajśo k nam – A warm welcome! Come upon two languages, two traditions, and two open arms. Home of the Sorbs/ Wends, the smallest Slavonic tribe, give the region both a vivid and a proud tradition. Zampern (Sorbian camprowanje = to demand; a kind of a trick-or-treating); Kokot (to pluck the cockerel) a custom of the harvest festival, where young men on horseback aiming to pull a cockerel from a higher wooden archway, and thus have to be clever with their hands; moreover the folk dances in traditional costumes – no travel through time at all but an event here and now! You'll listen to the myths on markets and festivities. You'll find hospitality, unspoilt nature and, of course, originality. Well, you may have a look over the old master craftsman's shoulder even within the smallest hut – what a sense of home-loving.
Burg in the Spreewald … experience nature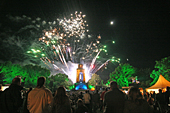 Nights of myths, events of festivity, barge trip regarding subject matter
To know where Easter eggs turn around, when pumpkin spirits bring a child into the world, and where kings are going on a barge trip. Suspense will be maintained in all weathers. Highlight at Whitsun is the "Spreewald's Night of Myths". Whether mysterious or funny – or euphoric in any case. Nymph, gnomes (Sorbian Lutkis = dwarfs) and snakes put a spell on the visitors at the scenery of the legendary Schlossberg (castle's hill), where the colourful flashing fireworks accompany them at night. As a matter of principle, one should make hay while the sun shines, and thus especially in a diverse and numerous manner throughout the whole year. Have an exciting barge water-trip with murder mystery and fairy story, but the most important to strengthen: mark it clearly in the calendar in order to can naturally experience!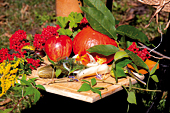 Burg in the Spreewald … enjoy nature
From the home-cooking to the award-winning cuisine
Fresh. Seasonal. Vital. Thus far you enjoy your holiday in the Spreewald. Linseed oil and quark don't just fortify Lusatian men, but it's also something "weightless" to eat with relish in summer for everybody. Over the autumn rules the plump king of garden; for delicious pumpkin menus are coming freshly from the local fields. That'll be served with a glass of fruit juice rich in vitamins from the grower in the neighbourhood. No matter what season – enjoy in cosy surroundings, since the close proximity to the water and, of course, the wholefood products make a man healthy, wealthy and wise.
Contact address:
Touristinformation im Haus des Gastes
Am Hafen 6
03096 Burg (Spreewald)
Tel.: 0049 35603 75016-0
Fax: 0049 35603 75016-16
E-Mail:
info@burgimspreewald.de
Web:
www.burgimspreewald.de
Öffnungszeiten:
Mai bis September
Mo - Fr: 09:00 - 18:00 Uhr
Sa: 10:00 - 18:00 Uhr
So/Feiertag: 10:00 - 16:00 Uhr
April bis Oktober
Mo - Fr: 09:00 - 18:00 Uhr
Sa/So/Feiertag: 10:00 - 16:00 Uhr
November bis März
Mo - Fr: 09:00 - 17:00 Uhr
Sa: 10:00 - 13:00 Uhr
So/Feiertag: geschlossen